5km Road RaceGet informed about the route
Starting point - Ending: Mavili Square, Molos, Ioannina
Start Time:18:30 (and partially in groups)
Date of race: Saturday, 23/09/2023
Age Categories:
All runners born in 2011 and before, over 12 years of age (juniors with written parental consent form, which will be delivered upon receiving runner number or at the organizer's office).Submitting the participation application means that the parent gives their consent for their child's participation in the competition and agrees with the content of the application). The runner participates in the "race" under his absolute personal responsibility, having undergone the necessary medical examinations and having had the necessary cardiac check-up.
Reception of chips-numbers:
 there will be a relevant announcement
Participation Fee:
Personal Registration: 15 euros.
Discount: 13 euros .
Group Registration (above 10 people): 13 euros.
Recognized clubs by the General Secretariat of Sports/EOLSMA-Y (above 10 people): 12 euros.
The Entry Package includes:
Keepsake t-shirt of the race
Number of Participation cursor
Electronic timer with chip
Collectible commemorative medal finish
Commemorative participation diploma
Medical Services
Photos
Discounts in partner stores
Route Description
Mavili Square → Dionysios the Philosopher → Garibaldi → Coast Miaoulis→ and reversal at Hotel Du Lac and back to Coast Miaoulis → Garibaldi → Dionysios the Philosopher and ending in Plateia Mavili.
Timing: Electronic.
Time Limit: 60 minutes
IAAF Athletics.Certified Route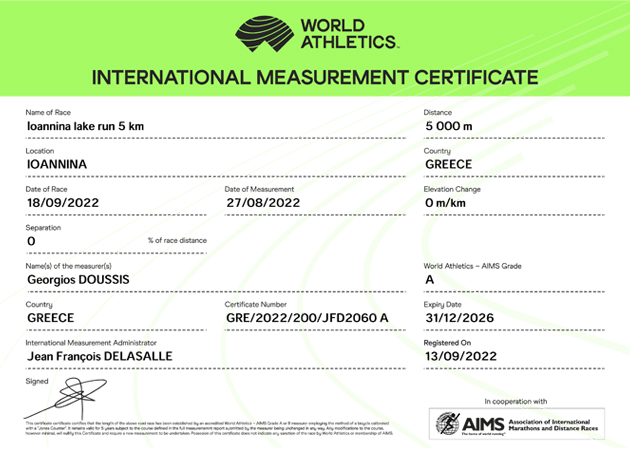 Useful Information
Categories:
a. Men - Women:
1. Up to 39 years old
2. 40 to 49 years old
3. 50 to 59 years old
4. 60 years old and more
b. Minors:
1. 12 - 14 years old (2011-2009)
2. 15 – 17 years old (2008-2006)
Prizes - Awards:
All finishers will receive commemorative medal and diploma of the race, which will be able to download it from the race website after posting the official results. In the overall male/female classification, the 1st male/female winner will receive a cup. Medal and diploma will be awarded to the first three runners. 
Registration Types:
There are 2 types:
a. Individual: made by individuals .
b. Group registrations: Concerns the registration of at least 10 persons, regardless the race in which each one of them wish to register.
This also applies to
sports clubs
runners' clubs
every recognized clubs by the General Secretariat of Sports/EOLSMA-Y
gyms, companies, schools, private and public organizations, travel agencies, but also simple groups of people who wish to participate as a team.
For group registration, a Team Leader should be appointed. The Leader of each Team will represent the Team against the organizing committee. The personal data declared by the participant upon submission of entry form are true and correct. In case the entry form is submitted by a third party, it is granted that the participant consents to his/her personal data being given to the Organizing Committee of the event by the third party.
Safety and Medical Coverage:
The entire route is covered by medical services, with mobile units and ambulances of the National
First Aid Centre (EKAB), medical volunteers such as doctors and a team of trained members of the Greek Red Cross Volunteer Samaritans and Rescuers Corp (Ioannina branch). The valuable services are provided by the Ioannina Police Department.
It is recommended that all participants have recently gone through a full range medical exam and cardio check before the event. The Organizing Committee will not request any written medical certification for any athlete, who competes at their own sole risk. Minors and juniors participate on the responsibility of their parents/guardians.
In any case, all runners participate solely at their own risk. Τhe participants declare that they have recently undergone a medical examination and they are perfectly healthy to participate in this sport event. They accept full responsibility for any injury or accident that may occur at any place of the venue of the race or that may occur during their participation in the race.
They waive any claim by the organizers, sponsors and anyone involved directly or indirectly to the event and accept that these persons have no legal responsibility for what may occur during my participation.
The organizers have no responsibility for any issue related to the participant's health due to the lack of pre- race medical check.
There will be announcements regarding the new health protocols prior to the event.
Management of Personal Belongings:
Participants will deliver - receive their personal belongings at the starting point at Square Mavili. Also athletes are requested not to carry valuables in their bags. The organization takes no responsibility for any loss.
All Routes.Choose your own